Social Media Is Killing More Than Just Speech
25 November 2014, Jonathan Saipe
It was my wife's Birthday recently. Throughout the day, she received a deluge of Birthday messages from her friends and family, both in the UK and abroad, via Facebook, WhatsApp, SMS and email. Our broadband was positively buzzing. But the silence of her phone was deafening. Not a single call. Only a Niagra Falls of social media content from well-wishers.
And whilst her mobile phone fell silent on her Birthday, I could count on a single hand the amount of times I have heard our landline ring in the last month.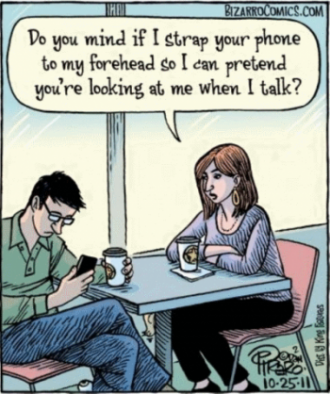 Among the baby boomers and some less technically-minded members of generation X, you will still find some resistance to "this social media thing". But for the vast majority of generation Y, social media comms far outweigh the spoken voice.
The question is, should we be worried about this? And what effect is social media having on a traditional and dare I say, esoteric form of communication called speaking. (A thought springs to mind, should I be creating a podcast of this to illustrate my point?).
Well, the subject is not new. ZDNet reported back in 2010 that phone calls were an endangered species killed off by social media.
So, instead, I'm going to try to reignite the embers of my psychology degree two decades ago, and look more closely at the effect social media is having on communication, education and even relationships.
Social Disability
On the subject of my wife's Birthday, we went to see the play of Mark Haddon's book, The Curious Incident Of The Dog In The Night-Time. It's a profoundly moving story portraying the life of a teenage boy suffering the effects of high-functioning autism. The underlying theme is of social disability, with the main character struggling to interpret colloquialisms, context and non-verbal cues such as facial expressions among other things.
Watching this play, it occurred to me that technology can also create social disability, and cannot fully replace the human experience. We use the emoticon or emoji to convey sarcasm, humour, frustration and other emotions and to replace facial expressions. But these tactics are prone to misinterpretation. For example, given the global nature of social media, local colloquialisms and quips can be misinterpreted across territories. And context is often ignored.
Concentration At School Is Getting Worse
The problem also extends beyond "social disability" into education. In 2013, the Telegraph reported that a generation of Internet-obsessed schoolchildren is losing the ability to concentrate in lessons and make proper conversation with friends. It claimed that the influence of social media, in addition to gaming consoles and mobile phones, on pupils' lives, is one of the biggest crises facing the modern education system.
David Boddy, chairman of The Society of Heads, which represents more than 100 independent schools, said the UK is in the grip of a "national attention deficit syndrome" because children spend so much time plugged into screen-based entertainment. He also claimed that pupils are losing the art of "proper concentrated conversation" because they are so used to communicating with friends via Facebook.
The problem faced by teachers (and parents) is that electronic devices and social media are pretty much here to stay. Whilst usage restrictions will play a key part in helping the problem, for what it's worth, I personally believe that the benefits of digital devices need be embraced. My children have shown far more enthusiasm in story writing when using Google Docs, than when I present them with a pen and paper. Creativity using digital devices is one thing, but the inability to have conversations or concentrate due to the effects of social media, is a different beast entirely.
Distancing Phenomenon
The final piece of the jigsaw is the effect social media has on relationships. Professor of Psychology at Lemoyne College, Krystine Batcho claims that whilst social media has its positives, its effect is to make interactions with other people too impersonal creating a distancing phenomenon.
Furthermore, what a person does in cyberspace can be quite different to what someone will do face-to-face in the "real world". Bullying is a very obvious example, with social media providing a cloak of anonymity making cyber-bullying much more likely.
Batcho also notes that what happens in cyberspace may not translate well to real life; how you carry out relationships in cyberspace, is quite different to what you do face-to-face, which means we start to lose important social skills.
This reminds me of a time when I was travelling abroad on business and decided to meet up with an old school acquaintance. Whilst we weren't particularly close at school, we had built up a good rapport on one of the social channels. However, upon meeting face-to-face, the conversation was laboured, and we both struggled to engage one another. We didn't drink into the early hours of the morning, debating, laughing and bantering. No. Our rendezvous finished within 45 minutes, after which we reverted perfectly successfully to our comfortable sober online friendship.
This is an example of the concern I have. Social media communication is not just replacing speech, it is threatening the benefits face-to-face conversations and real-life relationships give us. And this is corroborated by Batcho, who claims real life interactions add a whole extra layer of advantages compared with cyber ones.
So where is this heading? You might wonder why, as a digital native, I'm highlighting the negative effects of social media. Of course social media has in many ways transformed our lives for the better, but my view is that we absolutely must be aware of its dangers and think of the long term behavioural impact social media will have on both our and future generations.